An AI Enabled Quasi-Real-Time Water Quality Monitoring For Early Chemical and/or Biocontamination Detection
Visit to University of Malaya (Partner University)
During this visit, we had the privilege of being presenters at esteemed institutions, fostering engagement, feedback, and collaboration.
Our presentations, hosted by renowned universities, captivated diverse and attentive audiences. Faculty, researchers, and students displayed genuine interest in our research topics, creating a dynamic and enriching atmosphere.
Valuable Feedback and Insights
The visit yielded invaluable feedback and insights from experts and peers. Their perspectives, constructive criticism, and suggestions have already begun shaping the direction of our projects, enhancing the quality of our research.
Fostering Networking and Collaboration
Beyond presentations, we leveraged this opportunity to network with like-minded professionals, forging meaningful connections with faculty, researchers, and students. These connections extend beyond lecture halls, laying the foundation for future collaborative research projects.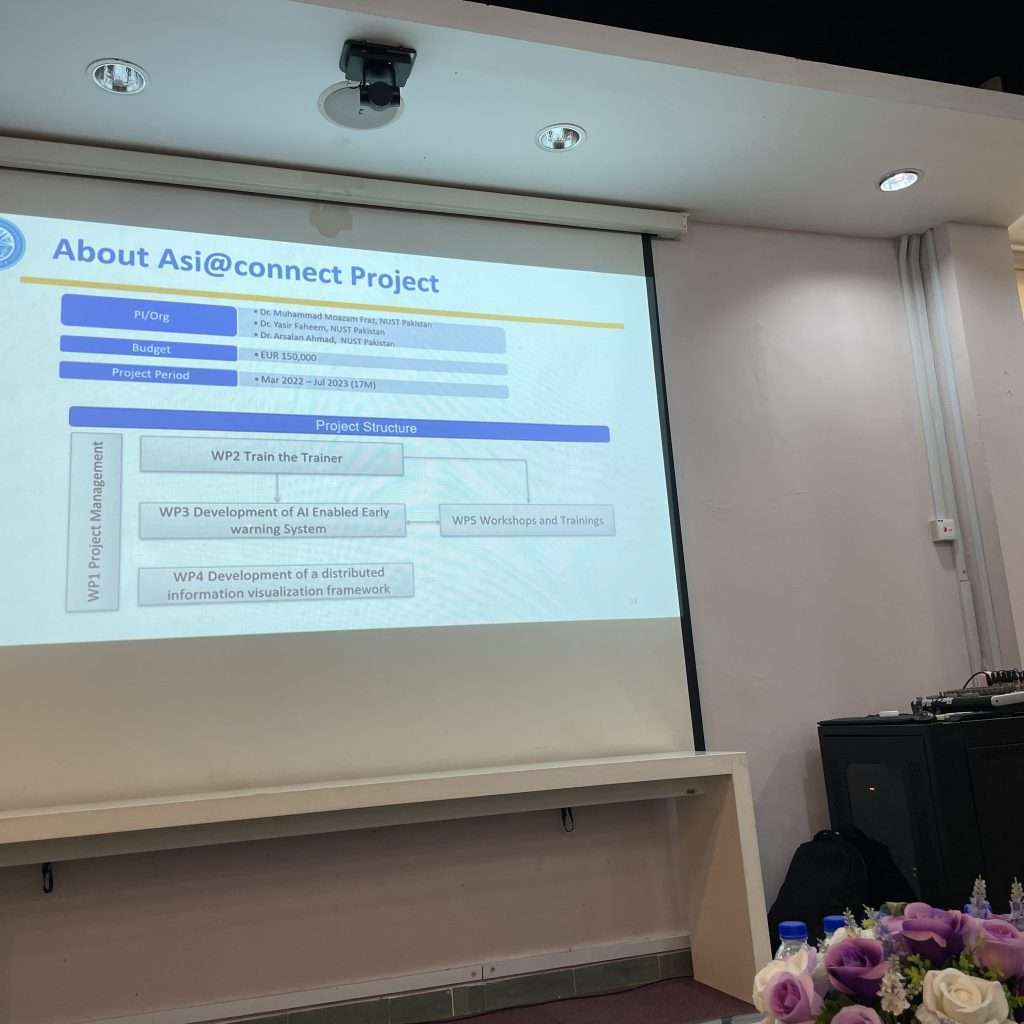 Host Institution Highlights:
Visit to the University of Malaya (Day 1):

Activities included an introduction to NUST (Dr. Arslan Ahmed) , presentations on AI-enabled water quality monitoring (Dr. Yasir Faheem) and AI for human sustainability (Dr. Muhammad Moazam Fraz). An interactive session was conducted for possible research collaborations.

University of Putra Malaysia Visit (Day 2):

This day featured visits to research labs, a talk on distributed architectures for IoT

(Dr Asad W Malik)

, and an interactive session for research collaborations.
  MYREN Network Operation Center Visit (Day 3):

Participants explored MYREN or an associated university and witnessed demonstrations of research activities at the SODON Lab, facilitating knowledge sharing and collaboration

(Managed by visitors from NUST)

.
This visit underscored our dedication to promoting collaboration, sharing knowledge, and exploring research partnerships. It facilitated a fruitful exchange of ideas and experiences, enriching academic growth and innovation.